Studying in Russia will give you a chance to practise language not only in the classroom, but also in real-life situations: in cafés, shops, and on the streets. Qualified and experienced teachers of "Enjoy Russian" school will be there with you to guide and help you. The school is 14 years old and has more than 1000 students as its graduates.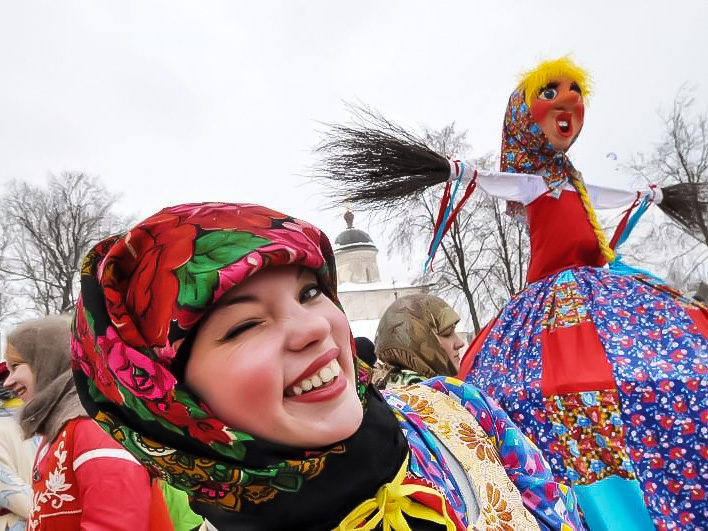 Full Russian language immersion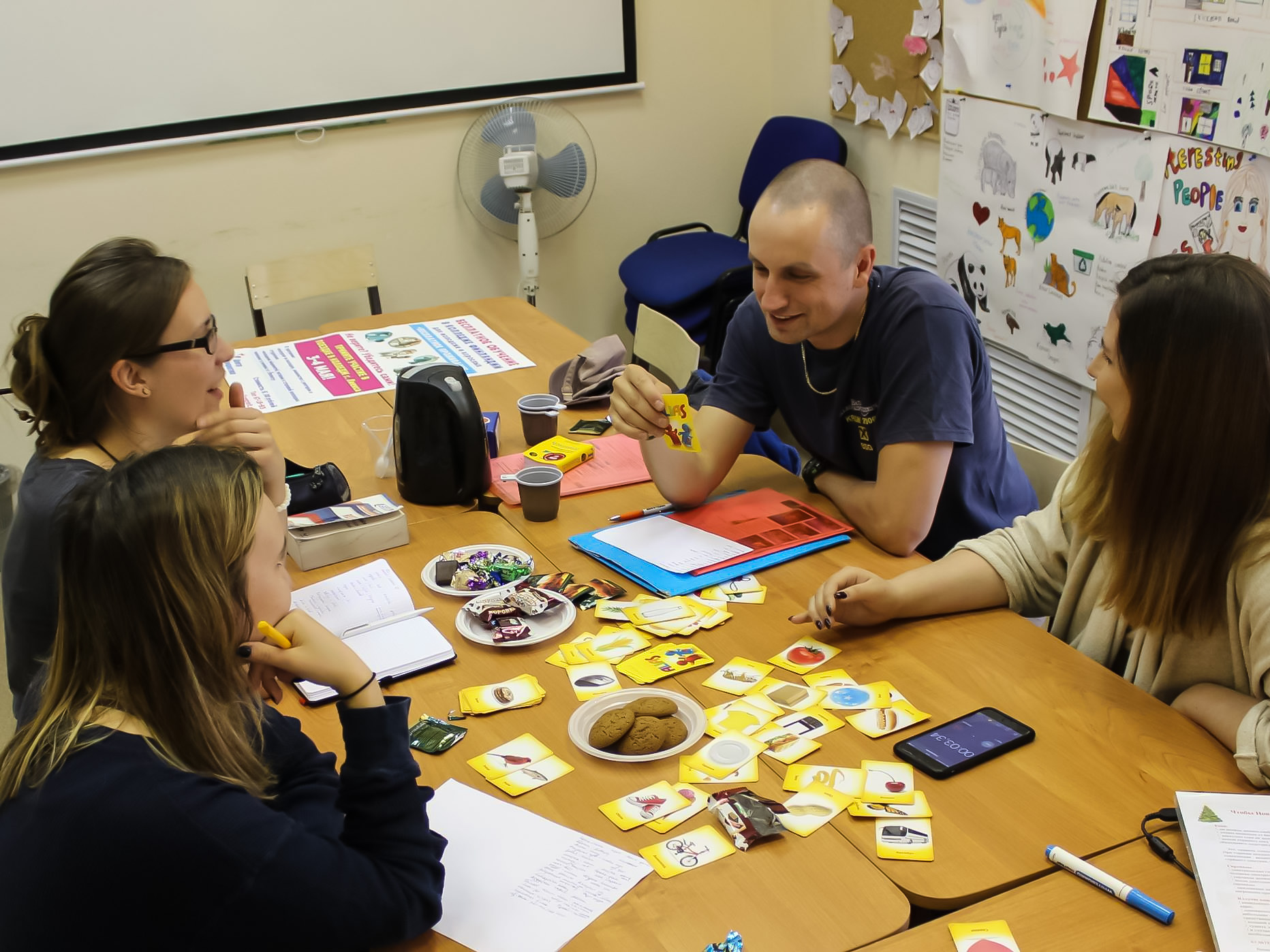 Reasonable cost of study and living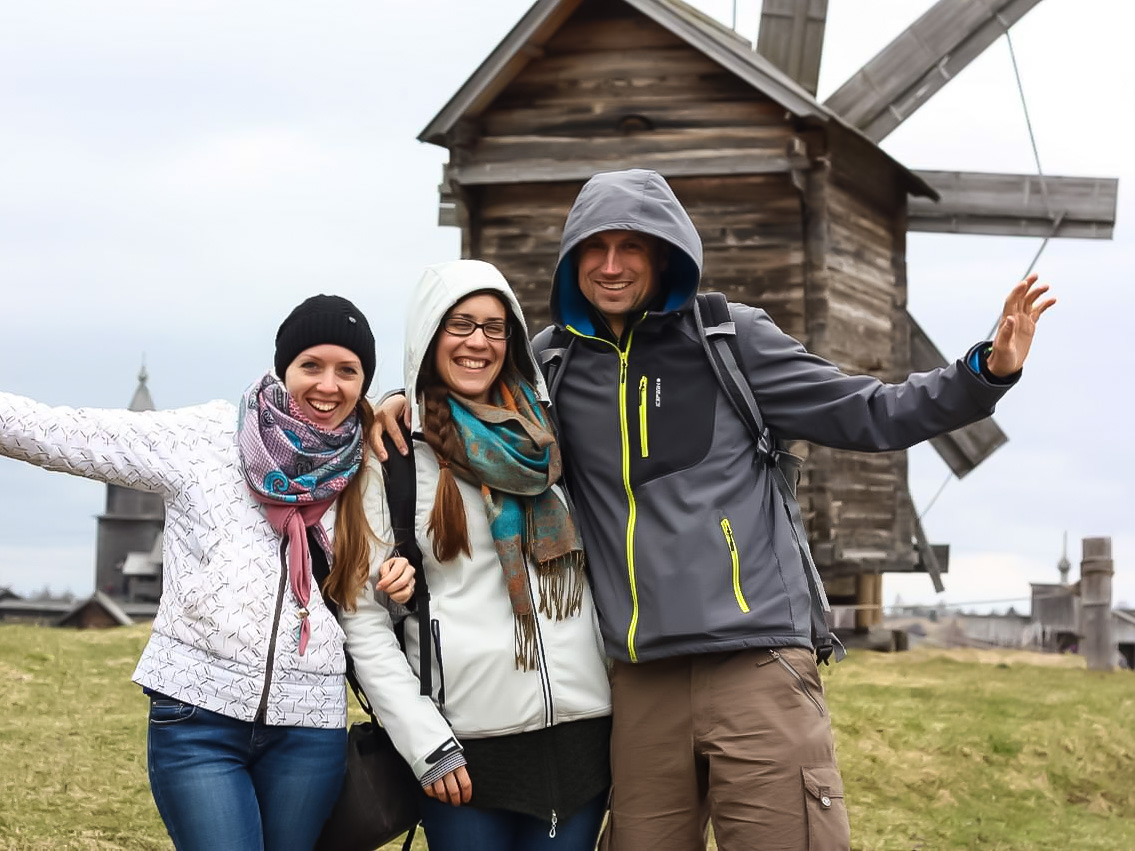 Great location in a safe Petrozavodsk
LOCATION
The school is located in a small and cozy city of Petrozavodsk (Republic of Karelia), just a 5 hrs. train away from St. Petersburg and 14 hrs. from Moscow. In spite of being the capital of Karelia, Petrozavodsk is a quiet city with unhurried way of life. Its population is about 275 346 people (2015). The school is located in the city center and it takes 10-15 minutes by foot to get to the main street of the city – Lenin prospect.
While the metropolises Moscow and St. Petersburg will remind you other tourist centers and busy capitals of Europe, in Petrozavodsk you will experience real life in Russia, and a picturesque Karelian nature won't leave you indifferent. As one of the students said: "I'm really tired from big city with cars and just buildings. And here I enjoy parks, trees in forests and lakes. This is awesome!".
There are many cafés, bars, and restaurants in the town. Be sure that you can always choose something suitable for your tastes. There are some traditional restaurants where you can taste traditional Karelian food and listen to the folk music. If you want to have a snack or you prefer simple and cheap food you can go to stolovaya (canteen) and any of cafés near to the School or on the Lenin prospect or anywhere in Petrozavodsk center. There also are several pubs and night clubs in the town where a lot of young people gather on the weekends.
Moscow and Saint Petersburg are a popular destinations for the weekend trips among our students.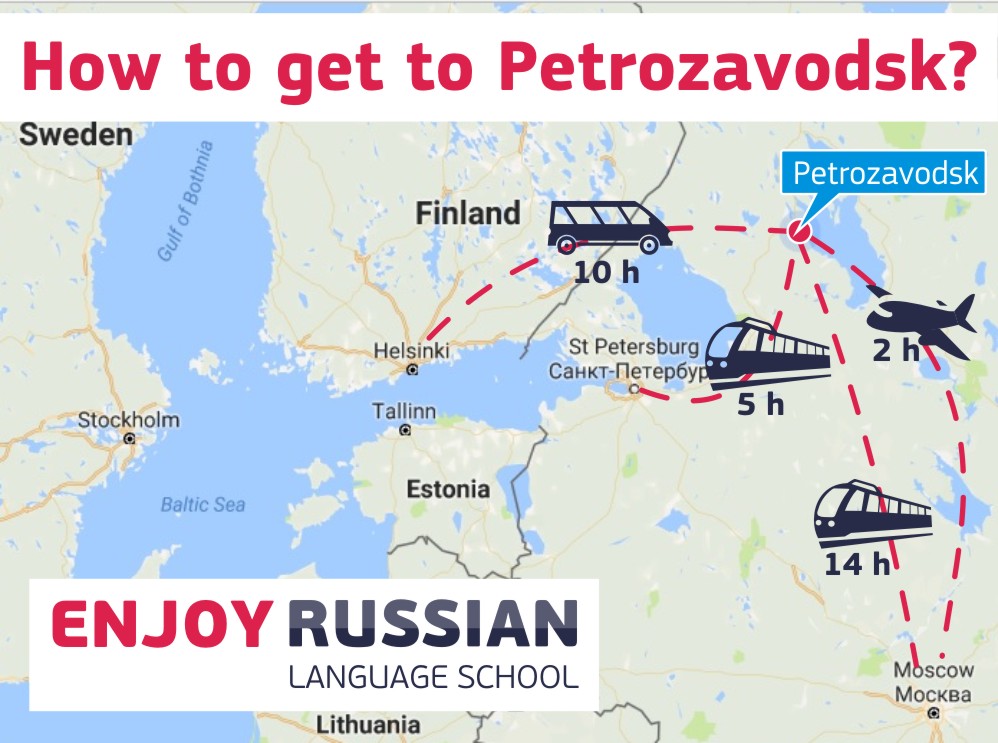 FULL RUSSIAN LANGUAGE IMMERSION
Accommodation: Russian homestay
Living in a Russian family helps the students to understand our way of life and traditions, practice the language in an informal setting 24 hours a day and improve it, get to know what is Russian hospitality. Many of our students make friends with their new families and keep in touch with them.
There is a number of families we've been working with. They live around the city. Some of them have small or grown up children living with them, in some families you can meet just husband and wife, mother with a child or babushka (old lady) living with pets or alone and etc. But each of them is really glad to welcome students.
Before arrival to Petrozavodsk the student fills in a special questionnaire, including information about his/her own requirements (e.g. if the student prefers a talkative and active family or needs much privacy), food preferences (allergies, sensitivities, diet, etc.), other wishes (attitude to pets, babies, etc.), language (family speak just Russian or foreign languages as well), etc. According to the student's wishes the School coordinator will chose a host family. We try to meet all the requirements in order for the student feel comfortable in the family.
Russian homestay is an essential part the program, but sometimes a student prefers to find accommodation on his own. It's always possible to book asuitable independent accommodation not far from the School.
Cultural activities
Cultural program gives the perfect introduction into Russian culture and history. We organize long-term excursions at weekends (Kizhi, Rafting, Valaam, Kivach, St.Petersburg etc.) and different cultural activities during the week after lessons (welcome party, excursion around the town, national food party, traditional Karelian dancing class, cooking class, horse-riding, bowling, Russian banya, museums and craft shops, etc).
We usually offer our students a standard program that may be changed in accordance with the weather and students' wishes. We are always ready to help you in organizing your private tours. All cultural activities are optional, you are free to decide whether to participate or not.
Support of Russian volunteers
It is always difficult to be alone in a new city and especially in another country. So our volunteers help newcomers to adapt to new surroundings. In the beginning of the program they show our students the city center and the most important places (bus stops, banks, shops, cafes etc.). They participate in cultural activities with foreign students – accompany the students to the museums, help to buy things, help to practice Russian. Usually our students and volunteers become good friends, spend much time together and keep in touch after the program.
Russian speaking clubs
Once a week the School arranges a Russian speaking club – an informal meeting with Russian teacher and Russian volunteers to learn about Russian culture and traditions and practice Russian in a fun and educative way:
Movie club
The students watch and discuss Russian and soviet movies and cartoons. In this way the students have an opportunity to get acquainted with Russian architecture and views of the cities and villages, women's dresses and men's costumes, people's appearance and behavior etc.
Literature club
With the help of the Russian teacher students read and discuss excerpts from both classic and modern Russian literature works.
Discussion club
This club helps the students to learn more about Russian traditions and way of thinking. You may choose any topic to discuss – from Russian wedding traditions to politics.
Game club
The students play various table games, which helps both to relax and to increase the Russian vocabulary.
VISA AND OTHER DOCUMENTS
Each student is responsible for preparing the documents in order to obtain his/her visa. In order to be able to apply for a visa to enter the Russian Federation, you will need an official invitation letter which the school will provide you.
To receive the invitation letter in time to apply for a visa you should:
– Apply for the desired course 2.5 months before the program starts (the latest)
– Sign and return the contracts sent to you by our coordinator via email
– Send us a scanned copy of your passport via email
– Transfer the registration fee of 130 SGD
The registration fee includes all pre-arrival information, the invitation letter and postal service fees.
Please note!
If you apply less than 2.5 months before your desired program starts, we will ask to pay an extra 100-120 SGD for DHL express post in order to get the invitation letter to you in time.
We provide our students with an invitation to obtain a "Humanitarian Visa":
In order to obtain a "Humanitarian Visa", you need an official letter of invitation issued by the Migration service of the Russian Federation. The maximum amount of time you can stay in Russia with this type of visa is 90 days. We ask that you apply at least 2.5 months before your desired program starts to ensure that we have sufficient time to apply for and obtain your invitation letter and then send it to you, so that you can apply for your visa. Usually the Migration and Visa office in Petrozavodsk is able to issue the invitation letter within a month. As soon as we have received your invitation letter, we send it to you via e-mail and by post. Russian Embassy requires original Invitation letter (hard copy) to process your Visa documents.
It usually takes up to two weeks to issue you a visa to enter Russian Federation. Generally, you will need to provide the following documents in order to obtain a "Humanitarian Visa":
1. Completed application form (available at the consulate or from its internet site)
2. A copy of your passport
3. A printed copy of the invitation letter provided by the host organisation
4. Medical insurance
Please contact VFS Global Singapore for the relevant application form(s). It is important that you follow the relevant embassy's instructions very carefully while preparing your application. Your invitation letter must accompany your visa application form and any other documents required by the Russian Embassy when you submit them.
Migration card
You will need a migration card (completed by yourself) in order to register with the authorities in Petrozavodsk. Please do not forget to ask the customs staff at the border to give you an migration card. Without this migration card, it will be impossible for us to register you here.
Information about registration in Petrozavodsk:
According to Russian legislation all foreign citizens should be registered within 7 days of entering Russia. The school responsible for that.
In order to register, on the first day of the program you should give the school's coordinator the following documents:
1) Passport (incl. visa)
2) Migration card (which you will get at the border)
Information about medical insurance:
Every foreign citizen who comes to Petrozavodsk is to be insured for the whole period of the stay in Russia. You should buy the medical insurance in Singapore before applying for visa.
SUPPORT BY SCHOOL COORDINATORS, STUDENT GROUPS
We aim to make students' preparation and the stay itself as easy and worry-free as possible. We will help students to prepare for the trip, including getting visa, and help to get settled in Petrozavodsk before the program beginning.
Our school coordinators will support students at each step before and after their arrival to Petrozavodsk.
BEFORE ARRIVAL:
1. Via e-mail: info@enjoyrussian.com
2. Facebook group: https://www.facebook.com/groups/enjoyrussian/
3. Facebook page: https://www.facebook.com/EnjoyRussianLanguageSchool/
4. In 2 weeks before arrival you'll get Information letter with detailed information about host family and recommendations.
AFTER ARRIVAL:
1. The coordinator will add you to another group on Facebook "We are in Petrozavodsk!". The participants of the group are all the students who study at school at the same time with you. So you can keep in touch with them as well as volunteers, coordinators and follow news about cultural activities of the School.
2. In Petrozavodsk each student will get a local sim-card in order to keep in touch with each other, coordinators and host family.
CALCULATE YOUR BUDGET FOR LIVING IN RUSSIA
Here is a list of some food, products & services and their prices in Russian Rubles in Petrozavodsk:
Food:
Pork – 380 rubles/kg
Beef – 450 rubles/kg
Chicken – 220 rubles/kg
Smoked sausage – 367 rubles/kg
10 eggs – 80 rubles
Loaf of white bread – 35 rubles/500g
Milk – 60 rubles/1 litre
Vegetable oil – 81 rubles/kg
Butter –80 rubles/180 gram
Sugar – 50 rubles/kg
Salt – 15 rubles/kg
Rice – 60 rubles/kg
Potato – 16 rubles/kg
Tomato – 150 rubles/kg
Apples – 84 rubles/kg
Bananas – 80 rubles/kg
Lemon – 86 rubles/kg
Tea – 90 rubles/ 100 gram pack Orange juice – 57 rubles/litre
Water – 50 rubles/1.5 litre Coke/Pepsi – 35 rubles/(0.33 litre) Yogurt – 55 rubles
Cheese – 350 rubles/kg
Other expenses:
Shampoo – 80 rubles/250ml
Face soap – 25 rubles/100g
Pack of cigarette – 50-80 rubles (depends on the brand)
Cup of coffee – 48 rubles/200g
Lunch in a café – 180 rubles/person
Lunch in a restaurant – 915 rubles/person
Internet – 300 rubles/month
Ticket to the cinema – 150-350 rubles
Ticket to the theatre – 150-600 rubles
One-way ticket (local transport) – 17 or 22 rubles (trolley bus or bus respectively)
Taxi (normal tariff) – 120 rubles
Please note that the price above are average prices, it can differ depending on the stores. The current RUB/SGD exchange rate can be found on https://www.xe.com
Price, SGD

1. Registration

Russian Visa and course enrolment
130

2. Course fees

2 weeks Intensive course (40 lessons)
500
4 weeks Intensive course (80 lessons)
1,000
12 weeks Intensive course (240 lessons)
Individual lessons (< 80 lessons, per lesson)
33
Individual lessons (

≥ 

80 lessons, per lesson)
27

3. Accommodation

2 weeks homestay accommodation (incl. breakfast)
250
4 weeks homestay accommodation (incl. breakfast)
500
12 weeks homestay accommodation (incl. breakfast)
1,500
2 weeks homestay accommodation (incl. breakfast and dinner)
370
4 weeks homestay accommodation (incl. breakfast and dinner)
740
12 weeks homestay accommodation (incl. breakfast and dinner)
2,220
Cultural tours, programs & activities are paid extra depending on the chosen activity
Textbooks are paid extra depending on the student's language level (30 – 40 SGD)
Fees above are valid on Nov 2018, please contact us to check the current fees